Home » Cards meaning » The Sun
The Sun definication, Tarot of Marseille
Presentation of the card The Sun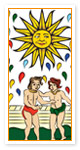 This arcane evokes, by its name and its illustration, positive and beneficial sensations. It symbolizes life, energy, light, and radiation. This card evokes intelligence, love, and sincerity. Bright and promising of all the benefits this card represents success, the joy of living, happiness, and good humor. In a deeper sense, it symbolizes truth, revelations, the spot light, and enlightenment. It symbolizes a person who has managed to harmonize their instincts and passions. With this card, emotional impulses are well channeled and lead to the expression of feelings and emotions in a constructive and creative energy. There is a lot of positive in this arcane but it also expresses some defects such as an excessive pride, an excessive self-esteem, and a sense of superiority, which, in the long run, tarnishes the image of the Sun. Also, in its excess, the Sun that causes so much happiness, can make us lose contact with reality and isolate us from the outside world.
Upright, this card presages that a torment will end thanks to the beneficial effects of a revelation. A truth will clarify a situation and cause great relief to the consultant. This arcane announces that a situation will evolve for the better. The promises will be kept. It presages personal, athletic, professional, and emotional victories. With the influences of the Sun, truth triumphs over superficiality. Annunciator of prosperity, happiness, and wellbeing, this card guarantees that the consultant's desires will be granted.
In reverse, this card announces news that is not great or worse, disappointing. It presages changes that are not in line with the wishes of the consultant. It warns against prejudices that would compromise a positive outlook. It highlights the undesirable effects of refusing change. It expresses that life is not a perpetual great straight line and that we must know how to take turns, even the most sudden, with dexterity, intelligence and open-mindedness. This card encourages renewal when necessary.
The card The Sun with your mood

The mood is tinged with altruism and generosity. One feels able to shine in any field that one masters, with a very constructive lucidity. We find that life is beautiful because we have the acute sense of the resolution of a situation, thanks to new lights focused on the concerns. Good sowed actions begin to bear fruit and joy is present but we must not be dazzled by too idyllic appearances.

The Sun is very favorable to romantic relationships. It signals the beginning of a very positive phase during which we move to joint construction projects, we prepare a ceremony or celebrations... This is an excellent influence for singles who have every chance to make a crucial meeting and for couples whose daily life is illuminated by happiness and complicity. The only pitfall is too much self-confidence that could spoil the best moments promised by this highly beneficial arcane.

The card The Sun with your finance

This arcane of the Sun is a sign of good money, sound investments, pleasant expenses and unexpected support. But one must be wary of the facility that can lead to imprudence or excess. Do not hesitate to complete a good intuition with good advice from honest professionals, we should also be wary of the mirrors larks: the good income should not lead to unnecessary expenses that would end up still burden a budget yet in balance.




With the Sun, a new day is emerging on professional life and brings expected success, promotion, new responsibilities, honors, recognition. Contracts are signed, the Sun can evoke, announce or advise an association with a close but, on this occasion, it will be necessary to remain lucid and clairvoyant and to keep in mind that all that glitters is not gold...




The next tarot cards: Judgment, The World et The Fool

You've just learnt about the card The Sun, now we inviste your to discover the next tarot cards: