Home » Cards meaning » The Emperor
The Emperor definication, Tarot of Marseille
Presentation of the card The Emperor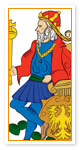 Power, virile energy, strength, and will are the main characteristics of this card. It refers to everything that is strong, sustainable and that is going to last. It expresses that success will be subordinated to a constructive and determined will. It evokes everything that is legal and fair. It sends the message that to succeed, the consultant must apply to show loyalty, rigor, and consistency regardless of the field. In a draw, it foreshadows that the consultant's projects will will be durable for the long run provided that they are conducted under the influence of the will and practical sense. The emperor leaves nothing to chance. He does things in order and without being influenced by others. It is in this state of mind that success will be assured for the consultant. Also, this mystery evokes a voluntary and influential man who has a determining influence for the consultant or for the realization of their projects.
The Emperor drawn upright
Upright, projects are assured of a great success that will be sustainable over time. Initiatives will be successful and will be supported by influential people with some power. A problem will find an advantageous solution. A relationship is becoming official towards a lasting union. The intentions of the people towards the consultant are serious. This arcane advises us to seek the support of an influential person or one who has power. This will contribute favorably to the realization of projects or will provide us with an efficient and benevolent support in the face of difficulties.
The Emperor drawn inverted
In reverse, or upright this arcane evokes the constructive will as far back as it expresses stubbornness and a form of despotism. At worst, it reflects a personality or an attitude cantankerous and miserly. This card bodes that projects will not happen as planned. They will encounter impediments, obstacles or at best partial success that will not be satisfactory. The strength of this card when upright is transformed into instability. She warns against the toxic effects of indecision, passivity, and weakness.
The card The Emperor with your mood

With the Emperor, the mood is sober and constructive. Situations should be considered with logic and common sense and we can face material limitations that force to adapt or endure ... This serious atmosphere but a little constraining can, at times, darken the mood because it is mainly question discipline and reasonable management of the entire field of material achievements.

The card The Emperor in Love

Singles are likely to have a promising encounter that will lead to a lasting relationship. The couples cement their union, not in the passion but in a serene harmony which dispenses them from big lyrical flights. It is a realistic atmosphere that hovers over loves and makes you want to engage, build and consolidate all the emotional ties.

The card The Emperor with your finance

The Emperor protects the financial life; it brings the material stability and the good sense necessary to a good management of the assets. Well-designed work and investments are much more profitable than impulses or games of chance that are not recommended at all in this situation. Tenacity pays and the business sense is sharpened.




The card The Emperor at Work

The Emperor increases the responsibilities and influences the fame; he reinforces the ambitions and gives the strength and the courage to carry out the most difficult tasks. Merits and talents are recognized, perseverance pays and realistic, concrete proposals are a real success on the hierarchical side or with colleagues and associates. It is a mystery that promises a beautiful evolution of the social and professional situation.




The next tarot cards: The Hierophant or Pope, The Lovers et The Chariot

You've just learnt about the card The Emperor, now we inviste your to discover the next tarot cards: