Home » Cards meaning » The Fool
The meaning of the card The Fool
This card symbolizes departure and freedom, which may not yet be realized. It evokes the spirit which is detached from illusions, superficial desires and which seeks the essential. The character who illustrates this arcane leaves without returning and without much. Only a dog, a symbol of friendship, tries to hold him back. The character looks at him but continues to move forward. This card expresses the unexpected impulses and the strokes of luck that give the means to free ourselves from a situation, a bond, or a relationship. With this arcane, favorable events are not tinged with stability or duration. They are there to give the impetus it takes to leave, to take a step forward, and to change what needs to be changed. This card expresses events that restore hope, confidence, and positive energy. Seen from the outside, the choices and the decisions of the consultant can be seen as a stroke of madness. In these circumstances, the Mate knows what he is doing and for what reasons. He has no illusions but that does not prevent him from seizing the chance that passes even if he knows that it is ephemeral.
The Fool drawn upright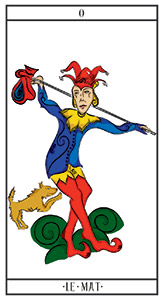 Upright, this card presages a stroke of luck or an event that will allow the consultant to free themselves from a situation or a bond. Things will be short-lived but they will have the merit of giving the impetus for a new start to a new life. This arcane evokes a personality endowed with a young, dynamic spirit, which is needs its freedom, its independence and which has a way of life that differs from the conventional schemes. She announces a period of life that is carefree and spontaneous freed from obligations and constraints. The absence of prejudices makes things possible.
The Fool drawn inverted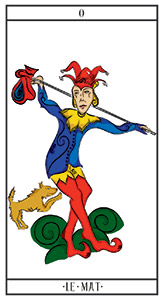 In reverse, this card evokes difficulties finding a goal or an objective in life. It presages attempts that are as varied as diverse but without leading to convincing results. The consultant does not know how to take advantage of opportunities that arise even if they are of a fixed-term. He does not see the positive effects but remains focused on the negative effects. This inverted arcane invites you to reflect and to retrace your steps following an action made on a whim. It invites the consultant to reconnect with reality because their ideals are too utopian.
The card The Fool with your mood

The Fool brings a good dose of energy and a great desire for independence that encourages change. But change brings doubts, indecision and moments of impulsiveness. This arcane requires a channeling of energy towards realistic objectives, so as to avoid any incident or the choice of an unsuitable solution in the long term.

The card The Fool in Love

The Fool induces many meetings but promises no stability in relations. It is an arcane that encourages independence and so it is difficult to focus specifically on one person. This is an asset for some singles who can test different affective relationships. As a couple, there is a lot of upheaval if you try to get away from certain promises.

The card The Fool with your finance

The Fool can induce a period of financial instability: spending is not well managed and purchases by impulse are increased. It's a time when you have to keep an objective eye on your budget, avoid investments and, as much as possible, try to put three cents aside rather than following your whims.

The card The Fool at Work

The Fool brings uncertainties and changes in the socio-professional life: the occupied place becomes unstable; sometimes we are forced to change positions or think about a conversion. Agreements already made can be called into question and unbalance all the work done so far. It is imperative to avoid impulsive decisions with this arcane.